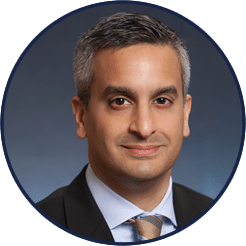 Jay Yepuri, MD
Gastroenterologist in Bedford, TX
Hemorrhoid Banding Specialist
Dr. Yepuri is an expert in hemorrhoid banding in Bedford and the surrounding Fort Worth, TX areas. Using the CRH O'Regan hemorrhoid banding system, Dr. Yepuri can treat your internal hemorrhoids in a few minutes using this painless non-surgical technique.
What is hemorrhoid banding?
Hemorrhoids are blood vessels in the lower rectal and anal areas. According to researchers at Harvard Medical School, the most commonly prescribed hemorrhoid treatment procedure in the United States is hemorrhoid banding (rubber band ligation). This procedure involves placement of a small elastic band around the base of a hemorrhoid. As a result, the band cuts off the blood supply to the hemorrhoid causing the hemorrhoid to dry up.
Hemorrhoid banding is a quick, painless and efficient non-surgical technique for the treatment of symptoms related to internal hemorrhoids. Jay Yepuri, MD performs this procedure, which only takes a few minutes, in his office.
Dr. Yepuri exclusively performs hemorrhoid banding with the CRH O'Regan hemorrhoid banding system. To learn more about the CRH system, click here.
To learn more about hemorrhoids and their causes, I encourage you to click this link and visit the hemorrhoids page.
When should I get my hemorrhoids banded in Fort Worth, TX area?
Symptoms related to internal hemorrhoids include bleeding, itching, swelling (with associated pain and pressure), prolapse (where the hemorrhoids stick out and either go back in on their own or must be pushed back in) and leakage of stool (soilage).
In general, if these symptoms occur with greater frequency, severity or persistence and have not improved with other treatments (home remedies, topical creams, suppositories, increasing dietary fiber, controlling constipation or diarrhea) then a course of rubber band ligation is appropriate to consider as recommended by the American College of Gastroenterology. Subsequently a thorough discussion and evaluation of your symptoms with your Gastroenterologist will help determine if rubber band ligation should be the next step in your care.
How much does hemorrhoid banding cost?
The cost of hemorrhoid banding varies based on insurance plans and individual insurance policies. Our experienced office staff will provide you with a clear and concise picture of all costs prior to your course of banding. In addition, you can explore the complete list of the insurance providers and plans that Dr. Yepuri participates with by visiting our health insurance page.
Furthermore, all of our hemorrhoid banding is performed in our office in Bedford. We maximize value for our patients by performing their banding in this high quality, low cost manner.
Hemorrhoid Banding Recovery and Aftercare
The recovery time after rubber band ligation is minimal with very little pain or discomfort. It typically takes the banded tissue a few days to fall off and you most likely will not notice when that occurs. At this point, the hemorrhoid will have shrunk and will no longer cause any symptoms.
It is important to be mindful and take care of the area after the procedure to avoid a recurrence of the hemorrhoids. Dr. Yepuri will provide specific instructions to patients after the banding procedure regarding things they should and should not be doing.
Can I Resume Normal Activities Afterwards?
You can resume normal activities fairly quickly. After the procedure, Dr. Yepuri advises his patients to rest and take it easy for the rest of the day. Simply avoid heavy lifting, rigorous exercise and similarly strenuous activity on the day of your treatment. Subsequently you can resume all normal activity the next day.
Disclaimer: The information presented on this website is not intended to take the place of your personal physician's advice and is not intended to diagnose, treat, cure or prevent any disease.  Discuss this information with your healthcare provider to determine what is right for you.  All information is intended for your general knowledge only and is not a substitute for medical advice or treatment for specific medical condition