Dietary Preferences

The first stop in my series of DFW restaurant visits is at Flower Child. I went to the Inwood location, but they have 2 other locations (Addison & Royal Lane) as well. This is a healthy fast casual restaurant format where you place your order and a server will bring the food to your table. Pricing on average will range $10-$15 per person. Given the quality of their ingredients, I think it offers a fair value.
The layout and décor of the restaurant is composed small tables with industrial light fixtures and an open kitchen concept. You place your order at the front counter and then they will bring the food to you. There is a beverage bar where you can get water, tea or seasonal lemonade. Beer and wine are available at the ordering counter.
The Flower Child "healthy bites" mission is… "At Flower Child, we make every last bite from scratch, using fresh ingredients from close to home and serving healthy food that takes you to a happy place. That's our promise to you, whether you're vegetarian, vegan, paleo, or just hungry. And just because we can do sugar-free, dairy-free and gluten-free doesn't mean we do flavor-free… because where's the happy in that?"
I chose to start with Flower Child due their focus on healthy ingredients and accommodating most dietary restrictions. Let's start with my recommendations on why a GI doctor would eat at Flower Child.
Why GI Doctors Eat Here
Everyone's biological makeup is different. I'm different from you, you're different from your friends and your friends are different from me. So you shouldn't think about diets and food choices as a "one-size" fits all methodology.
I like that Flower Child's menu offers a variety of options that can help optimize gut health.  Choices on the menu include what I call the Fantastic Four. These are foods containing pre-, pro- and post-biotics as well as polyphenols and fiber (please see my article "The Healthy Gut Diet" on my website to learn more about the role these foods play in digestive health along with specific food examples).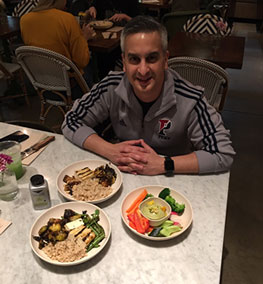 While most of these nutrients come from vegetables and fruit, you don't have to become a vegetarian to have a healthy gut microbiome. Vegetables and fruits are an essential part of you and your gut's diet, but this fact doesn't mean you have to restrict everything else.
Find what diet suits you. If it's a vegetarian diet, that's OK. But, lean red meat can also be healthy when consumed in moderation. In addition to the ready availability of nutritional information for various menu items at Flower Child, the diversity of the menu offers something for every taste and dietary preference. Enjoy!
Food Rundown
Flower Child's menu offers plenty of salads, bowls, plates and wraps. The produce-heavy menu is largely organic and guided by the Environmental Working Group's Dirty Dozen list so you can avoid eating any unnecessary pesticides. There's vegetarian, vegan and gluten-free options, but you will also see meat from animals raised naturally, without additives. I've provided a more detailed look into their ingredient sourcing in a later section.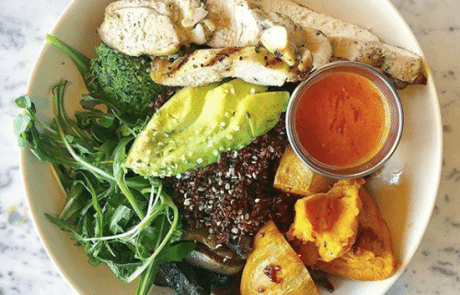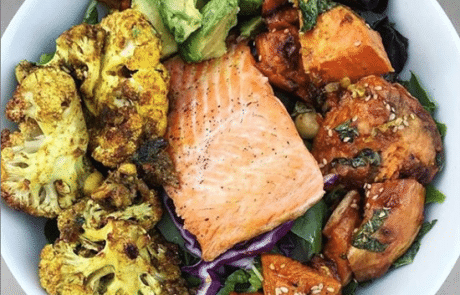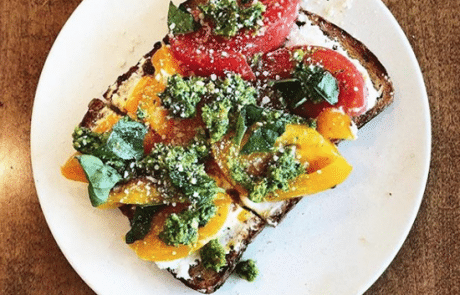 The menu also allows diners to build their own plates. I like the flexibility of this mix & match option, since it allows everyone to customize exactly what they want. You can add between 1-3 items plus a protein for an added charge as well. Some of the most popular items are Sichuan green beans, smashed organic potatos, Indian spiced cauliflower and red chili glazed sweet potatos.
A "healthy kids" menu is available for youngsters 12 and under. Similar to the mix & match plate option, kids are allowed to pick a protein plus 2 sides. The sides include 6 choices with items like gluten-free macaroni and cheese, broccoli w/parmesan and sweet corn & quinoa to name a few.
Popular Menu Items
I asked some of the staff to find out the most popular menu items. Survey says…
• Starters: avocado hummus, crushed avocado toast
• Salads: vegan ingredient, chopped vegetable, Mediterranean quinoa
• Bowls: mother earth
• Wraps: flying avocado, bird is the word

TIP
Opt for veggies with your hummus. While pita chips are healthier than potato chips, they are high in calories, carbohydrates and sodium.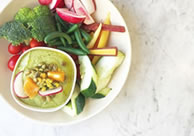 We started the meal with the avocado hummus with raw veggies ($8). Hummus is a very healthy dip that is made from chickpeas, olive oil, garlic, tahini, lemon juice and salt. This version included avocado, which is a good option for healthy fat (in moderation). It is typically served with pita chips or veggies.
For my meal, I chose to create a plate with tofu, brussels sprouts, spicy Japanese eggplant and organic brown rice ($12). I'll describe the health benefits of tofu in the next section, so I'll focus on the veggies & rice here. Brown rice is a healthy carbohydrate that should not be confused with white rice and is a good source of fiber, flavonoids, is gluten-free and contains many other nutrients. Brussel sprouts & eggplant are low in calories, but high in fiber, vitamins & minerals.
I'm a fan of creating a plate that is dominated by veggies along with a healthy protein and carbohydrate. This combination is not always possible, but the "create a plate" option at Flower Child makes it easy. I thought the food was very good and everything was delivered within 5 minutes of ordering.

TIP
Most adults don't get enough daily fiber. It's recommended to have 25 grams daily based on a 2,000 calorie diet. The dietary fiber found in fruits, veggies and whole grains all help with improving your digestive health. Eat your veggies!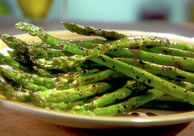 *If you experience bloating when eating certain foods (e.g. carbohydrates) one natural option to try is Atrantil. It was developed by gastroenterologist Kenneth Brown, MD in Plano, TX. Atrantil is a good option to consider when looking for a natural treatment for bloating relief.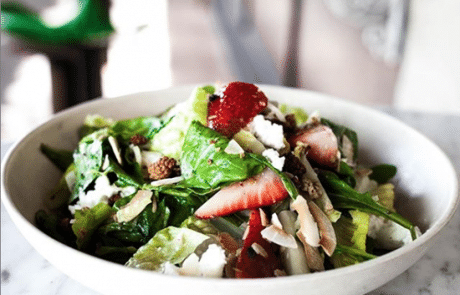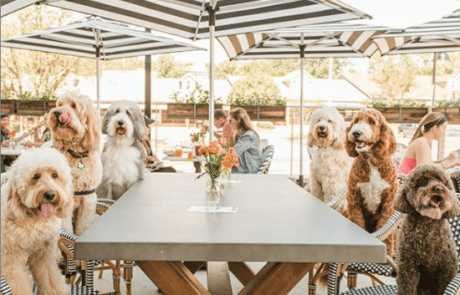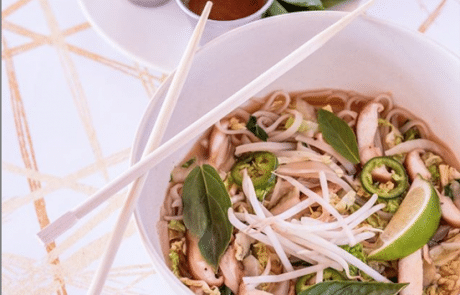 Nutritional Knowledge
While gastroenterologists are experts in digestive health, we have limited formal training relative to nutrition. To help bridge that knowledge gap, I've asked local DFW nutritionists to help add meaningful nutritional insight to my restaurant reviews. I'm excited that Amy Gonzalez, RD, LD, NTP, CLT has agreed to contribute to this review of Flower Child. While protein is an important element to all diets, I'm learning that the sourcing of the protein can make a big difference in the nutritional benefits to our body. With this in mind, I encourage you to read Amy's insight regarding the nutritional benefits of grass-fed vs grain-fed beef.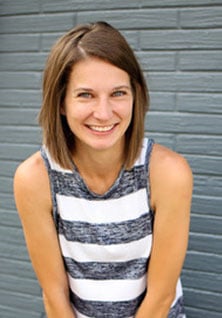 "I appreciate that Flower Child seeks out grass-fed beef for their menu. They say we are what we eat, but really, it's more along the lines of "we are what we eat eats!"
When it comes to beef, the diet of the animal during life can vastly change the nutritional profile of the meat once it gets to our plate. Compared to grain-fed beef, grass-fed beef provides anti-inflammatory omega-3 fatty acids and is the best-known source of CLA, that has been shown to fight cancer. It is also contains an abundance of nutrients including B vitamins, zinc, iron, vitamin E, beta-carotene, and other cancer-fighting antioxidants.
For Flower Child to have specifically selected grass-fed beef, it shows that they care about not only the importance of feeding cattle their natural diet, but they understand the nutritional benefits for their customers as well."
– Amy Gonzalez, RD, LD, NTP, CLT
What is Tofu?
Tofu isn't just for vegetarians.  It is made from dried soybeans in a process similar to making cheese. Since I selected tofu for my plate at Flower Child, I wanted to briefly describe how this lesser know protein can be a very healthy dietary option.
A 100g serving contains: 73 kcal, 4.2g fat, 0.5g saturated fat, 0.7g carbohydrate, 8.1g protein.
Tofu is a good source of protein and contains all nine essential amino acids. It is also a valuable plant source of iron and calcium and the minerals manganese, selenium and phosphorous. In addition, tofu is a good source of magnesium, copper, zinc and vitamin B1.
The taste is rather bland, so mixing with more flavorful vegetables & carbohydrates is a good idea. I like to vary my protein sources and will eat Tofu as a plant-based protein alternative intermittently. I encourage you to give it try if you're new to tofu.
Ingredient Sourcing
When eating a healthy diet, we need to consider the sourcing of ingredients as we evaluate the overall nutritional benefits of the food. I'm not going to say that you need to eat 100% organic foods, but when possible, you should be aware of how the food we eat is sourced — whether eating at home or dining out.
With this topic in mind, I wanted to share how Flower Child sources their food since this information will not be available at most restaurants I review. As a multi-location restaurant with a footprint in several states, food standards are particularly challenging to keep consistent.
Flower Child uses third-party vendors to help with maintaining certain standards with their produce and different proteins. Here is a brief description on how Flower Child sources ingredients for their franchise restaurant businesses at scale.
Produce
As far as produce, Flower Child does not source 100% organically. However, they do pay attention to the Dirty Dozen list, so any fruits and vegetables that are particular concerns as far as pesticides and contamination are always organic at Flower Child. This includes strawberries, spinach, apples, tomatoes, celery, potatoes and peppers.
A third-party company called Fresh Concepts is used to monitor and assist them with produce sourcing. Fresh Concepts works with local produce vendors in each market to ensure that everything purchased is labeled accurately.
Salmon
Flower Child's sustainable steelhead is sourced from Pacific Seafood and wild-farmed in the Columbia River. I know that there is some contention regarding wild vs. farmed salmon. If interested, you can learn more about the sustainability used at Pacific Seafood on their website.
Chicken
Flour Child's chicken is sourced from Redbird Farms in Colorado. The Redbird Farms website indicates that their chickens are raised without the use of antibiotics, animal byproducts, hormones or steroids and are cage-free.
Beef
The grass-fed steak is from Australia. The cattle are raised free of antibiotics & growth-hormones, on open pastures and never in feedlots.
Contributor
Amy Gonzalez, RD, LD, NTP, CLT is a Registered Dietitian and Nutritional Therapy Practitioner based in the Fort Worth, TX area. She practices Functional Nutrition, which helps to equip the body with the raw materials necessary to thrive in a healthful mind and body. Use these links to learn more & connect with Amy: