Restaurant: True Food Kitchen
Cuisines: American, Healthy
Meals: Lunch, Dinner
Location(s): Dallas, Plano
Hours: 11am – 10pm (M-Th), 10am-10pm (Sat), 10am-9pm (Sun)
Price: $12-$27pp
Order Online: place online order – pick up or delivered
Dietary Preferences

My next stop in my series of DFW restaurant visits is at True Food Kitchen (TFK). I went to the Dallas location, but they have 1 other location in Plano (Legacy Shops) and are looking to expand into Fort Worth in the near future. This is a casual dining restaurant chain offering contemporary American cuisine with a healthier aim.
The layout and décor of the restaurant is spacious and modern with high ceilings and enormous round light fixtures. I've been to TFK several times and it is always busy. Be prepared to wait for a table or they do offer dining in the bar area on a first-come basis. Even with the busy atmosphere I found it easy to hold a conversation.
The Dallas location is located in the Plaza at Preston Center. This is a high-traffic shopping plaza with several restaurants and immediate parking outside of restaurant can be sparse. We had to park around the corner, but it was just a short walk so not a big deal. They do not offer valet.
TFK was created by Dr. Andrew Weil who is a practitioner of integrative medicine and a holistic health advocate. The restaurants' menu is based on the anti-inflammatory diet, which is designed to prevent or reduce low-grade inflammation. I'll go into more detail on the anti-inflammatory diet in the next section as one of my reasons to eat here.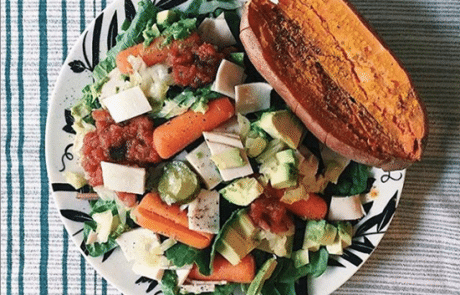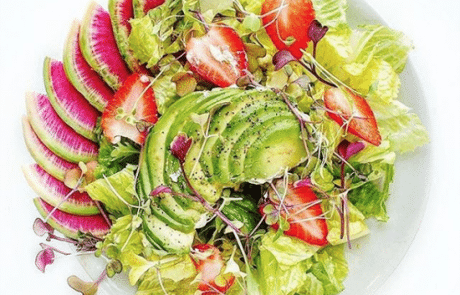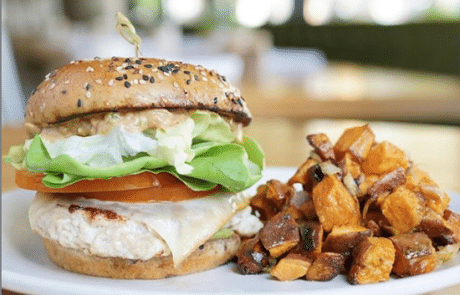 Why GI Doctors Eat Here
Let's talk about the anti-inflammatory diet. This diet was actually created by Dr. Andrew Weil, the founder of TFK. It is based on the Mediterranean diet and focuses on a daily intake of 2,000-3,000 calories, depending on your gender, size and activity level. According to Harvard Health, about 40-50% of your calories will come from carbs, 30% from fat and 20-30% from protein. While the diet is nutritionally sound and gives you the freedom to select what you want, it can be pricey and requires effort to make it work.
The point of the diet is to help fight off inflammation. Our immune system becomes activated when our body recognizes anything that is foreign—such as an invading microbe, plant pollen, or chemical. This activation often triggers a process called inflammation. When inflammation persists and becomes chronic it can wreak havoc on our digestive system and overall health. Inflammation has been linked to major diseases like cancer, Alzheimer's and diabetes.
From a digestive standpoint, ongoing inflammation may result in a variety of digestive issues and symptoms due to the effects of that inflammation on the digestive tract – ranging from abdominal pain, heartburn or reflux to diarrhea or constipation – and everything in-between.
As a gastroenterologist, I'm in favor of reducing potential inflammation to avoid the aforementioned digestive issues. Diet is the best natural anti-inflammatory and the foods in this diet can give you a good chance of achieving that objective. Here are a few key aspects of the anti-inflammatory diet to help you better understand how it works.
The diet is centered on fruits and vegetables.
Fats – It minimizes saturated fats, margarine, vegetable shortening and partially hydrogenated oils. It emphasizes dietary fat from extra-virgin olive oil, avocados, nuts and omega-3 fatty acids, which have been shown to reduce inflammation.
The plan stresses the substantial intake of omega-3s from cold-water fish such as wild salmon, sardines and herring – or fish oil supplements.
It minimizes refined carbohydrates, fried foods, sodas and red and processed meats.
Protein sources include fish, yogurt, cheese and beans – especially soybeans.
As far as produce, eat a variety of colorful produce, especially berries, tomatoes, orange and yellow fruits, cruciferous veggies and dark leafy greens.
Opt for tea over coffee, particularly the white, green and oolong varieties.
The diet also permits plain dark chocolate (with a minimum cocoa content of 70%), which contains antioxidants, and red wine – in moderation.
As always, changes in one's diet are best discussed with your doctor or nutritionist. Our bodies are all different and there aren't too many universal dietary recommendations I can give you other than avoiding sugar & processed foods.
Anything we can do to reduce inflammation in our bodies is a good thing. With diet being the best natural way to achieve that result, I encourage everyone to explore the foods in the anti-inflammatory and Mediterranean diets and learn how they might help better your health. TFK does a nice job with their menu and I highly recommend giving them a try as an introduction for those unfamiliar with this diet or as a great experience for those seeking these types of foods.
– Jay Yepuri, MD
Food & Beverage Rundown
The menu reflects the typical anti-inflammatory diet by emphasizing fruits, vegetables, lean protein, nuts, seeds, and healthy fats. Similar to the Flower Child menu, the TFK menu is coded with different icons for vegan, vegetarian and gluten-free items to help those with dietary restrictions. It's also seasonal, so expect to see menu changes as we move into Summer.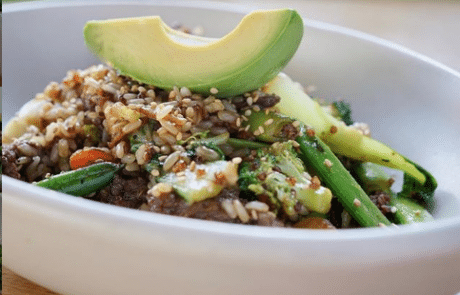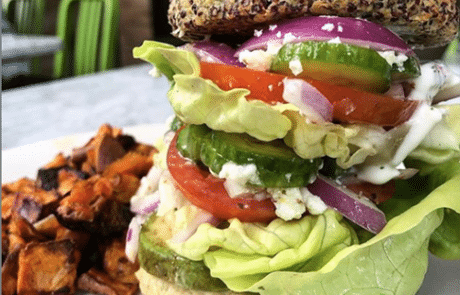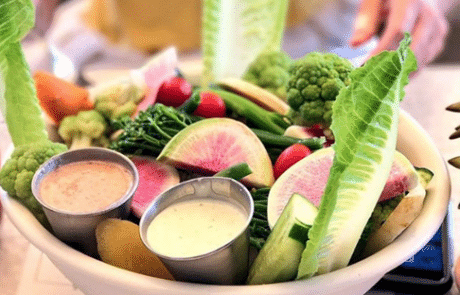 I realize that some are reluctant to try more health-oriented restaurants due to bland flavors… that won't be an issue at TFK (my opinion). You can definitely taste the Mediterranean & Asian influences with spices and sauces in several menu items. Everything I've tried has been very flavorful.
I'll give TFK 5-stars for food presentation. The kitchen staff have considerable plating talents. Not something I would typically comment on, but you can tell they pay attention to all details.

TIP
For those counting calories you will see that information listed next to each menu item. More in depth nutritional information on menu items can be found on the nutritional info sheet along with notes regarding possible allergen risks.
Kid options on the Spring menu included – pizza, sandwich (almond butter, banana, apple), chicken teriyaki bowl and a grass-fed burger.
Another attractive draw for diners is the surprisingly sophisticated wine and cocktail program. In addition, they offer several intriguing non-alcoholic drinks. I tried the Kale-Aid, a tall glass of a green mix of kale, apple, cucumber, lemon and ginger. Not something I would typically order, but I thought it was light & refreshing. The juice drinks were $6 and glasses of wine ranged from $8-$17 a glass.
Nut Allergies and Gluten-Free
Our waitress did ask us if we had any food allergies or special dietary needs. If so, they would do their best to accommodate. Knowing that the possibility for cross-contamination exists in almost all commercial kitchens, I liked that they introduced this conversation to us prior to ordering.
TFK is clear to point out that they do have shared cooking and preparation areas and the possibility exists for food items to come into contact with other food products. Therefore, they cannot guarantee that any menu item can be completely free of allergens. Those with conditions like nut allergies or Celiac Disease understand the risks these conditions can present.
Nutritional Knowledge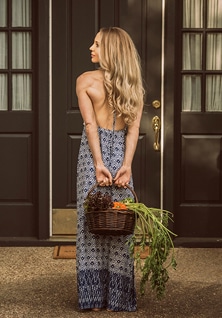 While gastroenterologists are experts in digestive health, we have limited formal training relative to nutrition. To help bridge that knowledge gap, I've asked local DFW nutritionists to help add meaningful nutritional insight to my restaurant reviews. I'm excited that Rachel Scheer, CN is contributing to this review of True Food Kitchen.
I am a big lover of sushi, which I why I love the TFK Poke Bowl. Traditional sushi, however, can be a loaded in processed carbohydrates and unhealthy fats. Ever wonder why sushi rice tastes so good? It's because sugar and rice vinegar are added to white rice. On average there is about one tablespoon of sugar for each cup of cooked sushi rice. White rice and sugar have a high glycemic index, meaning they cayuse a spike in blood sugar and a rapid release of insulin, which would not be ideal for anyone who is diabetic/pre-diabetic or even just focused on weight-loss.
One of the main reasons I love the TFK Poke bowl is because they use a quinoa base, instead of traditional sushi rice. Quinoa is not a grain, but rather a pseudo-grain/seed. Additionally, quinoa has far fewer calories and carbohydrates, twice the protein, and about 5g more fiber than white rice. With quinoa's lower glycemic index, and higher quantity of protein and fiber, you will also have better blood sugar balance (less spikes and drops, leading to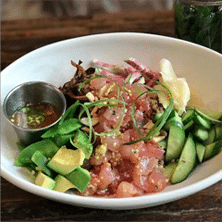 energy crashes) and will stay satisfied, longer.
Also, traditional sushi topped sauces, such as cream cheese and spicy mayo are not best sources of fats and can skyrocket those calories. Instead stick with healthy fats such as fatty fish and avocado, which are considered to be mono- and poly-unsaturated fats that can aid in heart health, decreasing inflammation, and healthy cholesterol levels. Both of which are found in the TFK Poke Bowl. My suggestion: Always ask for all sauces on the side when ordering any bowl or salad, that way you can also be in control in the number of fats/calories you want to add.
– Rachel Scheer, CN
Popular Menu Items
I asked some of the staff to find out the most popular menu items. Menu favorites are…
Starters: Edamame Dumplings
Salads: Mediterranean Quinoa
Bowls: Ancient Grains
Sandwiches: Turkey Burger
Pizzas: Tomato & Arugula
Entrees: Spaghetti Squash Casserole
I like to try new things, with this in mind we ordered 2 appetizers – Charred Cauliflower ($8) and Edamame Dumplings ($11). The Charred Cauliflower is served with a creamy tahini sauce accompanied with dates & pistachio nuts. The Edamame Dumplings featured five herb and edamame-stuffed wontons in a truffle-scented dashi broth, garnished with bright green edamame, scallions and cilantro. Both items were very good, and I wouldn't hesitate to recommend either one. However, the Charred Cauliflower has 24 grams of sugar and 1000+ milligrams of sodium, so this is definitely a dish to share.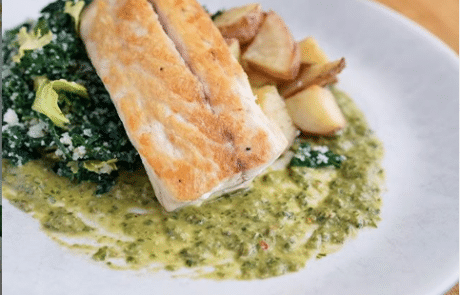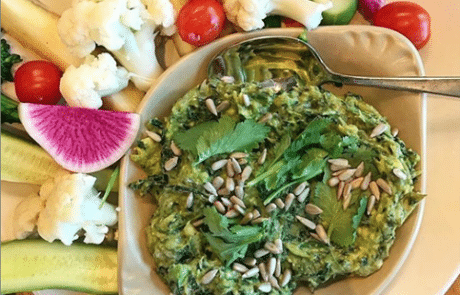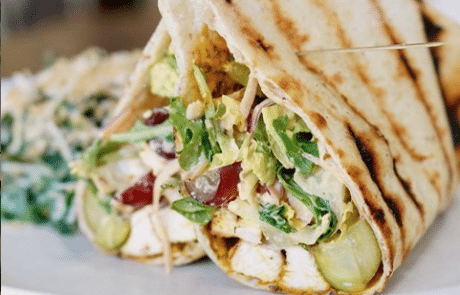 For entrees we decided on the Spaghetti Squash Casserole ($15) and Ancient Grains Bowl ($16). The casserole is gluten-free and includes layers of spaghetti squash, caramelized onions, organic DiNapoli tomatoes, zucchini and fresh mozzarella. The hearty Ancient Grains Bowl featured quinoa, farro and brown rice, which provided an earthy, pleasing textural contrast to charred onion, avocado, grilled portobello mushrooms, crisp snow peas and rich miso-glazed sweet potatoes. We added the grilled steelhead "salmon" ($9 extra) — sustainably-raised trout — to add extra protein to our meal.
If you're not familiar with squash, it is an amazing large and yellow vegetable that, once cooked, can easily replace traditional spaghetti. It's also perfect for those on the Paleo Diet – if you omit the cheese! It's super high in fiber & antioxidants and has only 27 calories per serving compared to the 158 calories in pasta. In terms of carbs, spaghetti squash comes in at 7 grams; pasta has 31 grams.
The Ancient Grains Bowl has 690 calories plus 260 calories for the salmon. This vegan grain bowl does fulfill over 50% of your recommended fiber but is fairly high in carbs with 80g (15g sugar). The mix of ingredients work well together, but the star of the dish is the sweet potato with its' miso glaze providing a little heat with a salty flavor.

NOTE
While TFK is a healthy restaurant with lean proteins and fresh organic vegetables, you do need to be aware of each menu items' nutritional composition. More specifically, I would like you to focus on… fats, carbohydrates (fiber & sugar), sodium and protein. This conversation is not exclusive to TFK and if you need help in better understanding the amounts you should be consuming each day, I would encourage you to consult with a nutritionist like Rachel Scheer.
Contributor
Rachel Scheer is a Certified Nutritionist with her own nutritional counseling business, Rachel Scheer Nutrition, in McKinney, TX. Rachel specializes in wellness, weight-loss, gastrointestinal health, food sensitivities, micronutrient analysis, and athletic performance. Use these links to learn more & connect with Rachel: